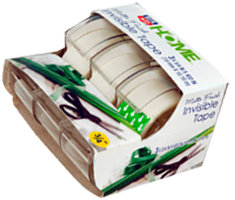 Rite Aid has a good deal on Invisible Tape 3 packs this week. They are on sale for $3.69 BOGO free plus there is a single check rebate making your deal even better. 
Here's how:
Buy (2) Rite Aid Brand Invisible Tape 3 pack – $3.69 BOGO Free
Pay $3.69, submit for $3 SCR #52 (limit 2)
That's like getting both packages for 69¢ or just 12¢ per roll! With kids this is something you can't be short on..they have projects to make!  😉 
I wanted to remind you of a great deal on Rite Aid brand hand sanitizer I mentioned in my Weekly Matchups but I wanted to point out that the reward is rolling!  There is a limit of 4 but you'll have to do separate transactions.  Check in the big free standing tubs by the registers for product. 
All you need to do is buy one Rite Aid brand hand saniziter 8 oz *pay the $1.00 + tax (if applicable) and you get back $1.00 +Up Reward.  Buy a second RA Hand Sanitizer pay with your previous $1 +Up Reward, pay nothing!  Buy a third and repeat to pay nothing, buy a fourth and repeat and pay nothing and you'll end up with a $1 +Up Reward!   
*If you have a +Up Reward from a previous deal you can purchase the first bottle totally free as well!  Reader Millie walked out of the store with 4 bottles and one +Up Reward therefore costing her only tax on the first bottle after reward!
Check out all the best Rite Aid deals here.
Thanks Moms by Heart (tape deal)