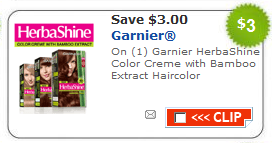 I shared this Garnier Hair color deal with you on Monday.  There is a second link available for the $3/1 Garnier Herbashine coupon:
Garnier Herbashine $5.99
Use $3/1 Garnier hair color printable here or here (IE) (FF)
Use $2/1 Garnier Hair Color Rite Aid Video Values
Pay $0.99 after coupons
But combine it with the buy $15 and get $5 +UP reward offer this week in this scenario I shared here to make it a moneymaker. Did anyone try it already?