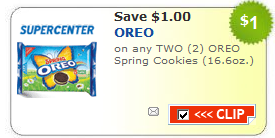 Calling all Oreo fans!  This week is a great week to get your Oreo fix for very cheap at Rite Aid with the following deal:
Oreo Cookies 2/$5, Get a $1 +UP Reward when you buy one
Use $1/2 Nabisco Oreo Spring Cookies
PLUS use $1/2 Oreo Cookies Rite Aid Video Values (exp 2/26/2011)
Pay $3 plus tax out of pocket and get back two $1 +UP Rewards!
My husband is gonna be SO happy when I walk in with these. BUT does anyone know if they make the Spring cookies in double stuff type? That's the type he really prefers.
Check out the rest of the weekly Rite Aid deals here.
Thanks, Spectacular Savings!