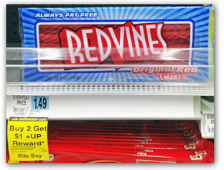 Looking for some cheap Movie Candy?!  This week through 6/29 at Rite Aid, five-ounce boxes of Red Vines licorice are on sale plus there is an unadvertised $1.00 monthly +Up Reward when you buy two.  Grab them for just 25¢ each after reward – no coupons required!  Here's how:
Buy (2) Red Vines Red Twists Boxes, 5 oz $1.49 BOGO FREE
Buy two Get $1 +Up Reward
Pay $1.49, get back $1 +Up Reward
That works out to be just 25¢ per pack!
Take a look at the other Rite Aid deals here.
Thanks Krazy Coupon Lady