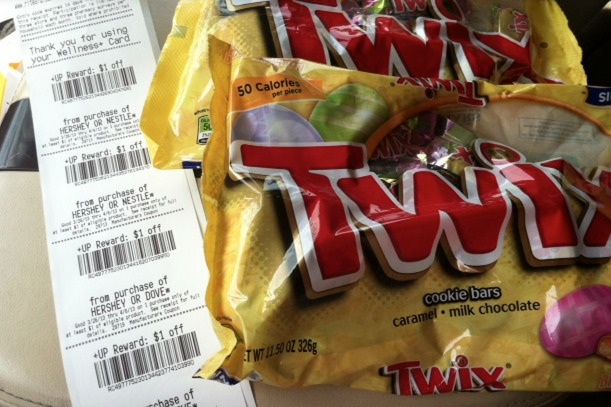 If you're still looking for a great deal on candy you may want to head over to Rite Aid this week!  This may be a regional deal but I wanted to let you know what has been reported.  There seems to be a double dip on +Up Rewards printing on the 11.5 oz Twix Easter Minis bags of candy AND the Mar's Miniatured Easter Candy!
They are advertised in the ad for $2.99 with a $1 +Up reward available on the select Mars bags, however when you purchase there is an additional $1 +Up printing.  There are two different rewards printing –  One from Hershey's/Dove and the other from Nestle/Hershey's. (limit 4)
Buy (2) Twix Easter Minis $2.99 ea
Use $1/2 Mars Easter Product, exp. 3/31/13 (RP 03/17/13)
Pay $4.98, get back (4) $1 +Up rewards (limit 4)
That works out to be just $0.49 per bag!
This deal is has been reported to be working on the Mar's Miniatures Easter Candy as well as 10.5 oz. bag of musketeers, twix, snickers, and milky ways.
This may not be available in all areas but it's worth a try!  Check out the other Rite Aid deals here.
Thanks Rite Aid 101