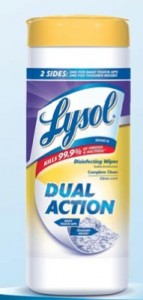 I told you a while back that you can try the Lysol Dual Action Disinfecting Wipes for free with this new Try Me Free rebate offer available. Now you can get two for free with the upcoming Rite Aid deal.  Rite Aid will have the 35 count wipes on sale for buy one get one free.  Combine that will this Try Me Free rebate you'll score two canisters for free!  Be sure that at least one one is the Lysol Dual Action to qualify for the rebate.  You only have one day to make your purchase due to the rebate, so make sure to get your purchases on 7/8.  Here is the deal:
Buy (2) Lysol Wipes 35 ct (at least one Dual Action) – BOGO FREE
Use $0.50/2 Lysol Product
Or $0.50/2 Lysol Disinfecting or Dual Action Wipes
Submit for TRY Me Free Rebate – purchase by 7/8
After rebate you will have two free canisters of Lysol Wipes!
Thanks Money Saving Maineac