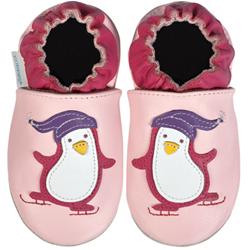 Robeez has some of their Holiday Collection shoes on sale right now for $12.99 each plus Free Ground Shipping at Robeez – No Minimum Order Size! (Click on Shop Boy or Girl and then "Sale" on the left side)
. Plus, the company is also offering to donate a free pair of Robeez Soft Soles to K.I.D.S. when you buy a pair of Robeez soft soles from now through 12/23. When you buy one, you give one.
I just gave one because I bought the pink pair pictured for my two month old daughter. Can you believe she's already two months old? She needed some of these shoes to keep her socks on. She keeps kicking them off!
Thanks Couponing to Disney!
Edited to Add:
If you are looking for Robeez but not Holiday/Winter theme: Land's End also has some Robeez on sale for $14.99 with free shipping with code BRISK and PIN 3224.