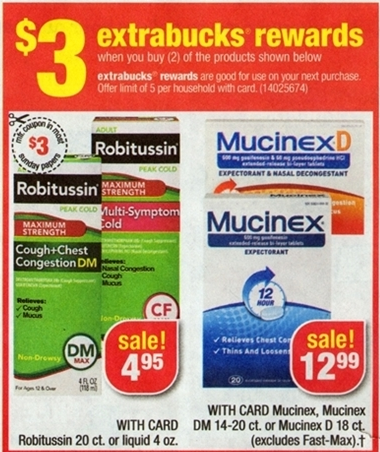 If you're waffling on whether or not to get an extra paper or order extra inserts this week let me put my two cents in….get more!  We are going to be getting some nice high value coupons including this $3/1 Robitussin Product, exp. 10/12/13 (RP 09/29/13).
If you're a CVS shopper, I mentioned this in my weekly matchups but I didn't want you to miss an opportunity to get a moneymaker deal.  If you buy 4 bottles of Robitussin, you will get 2 of the $3 Extra Care Bucks and you can use 4 of the Robitussin Coupons and the Rebate!  Here is one deal scenario:
Buy (4) Robitussin 20 ct or Liquid 4 oz – $4.95, Get $3 ECB wyb 2 (limit 3)
Use (4) $3/1 Robitussin Product, exp. 10/12/13 (RP 09/29/13)
Use $1/1 Dimetapp or Robitussin Bottle or Package or Advil Congestion Relief or Allergy & Congestion Relief, exp. 10/26/13 (RP 08/25/13)
Pay as low as $7.80, get back (2) $3 ECB
That will work out to be $1.80 for all four then…..Submit for $6/3 MIR Pfizer Participating Products, exp. 10/25/13 (RP 08/25/13 R)
That will make your final cost a moneymaker after coupons, ECB and Rebate!
Take a look at other CVS deals here.
Thanks Passion for Savings