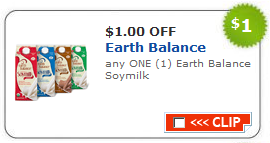 Check out the latest organic and natural coupons and deals.
Coupons and Freebies:
$1/4 HappyMorning or HappySqueeze Pouches
$0.75/1 R.W. Knudsen Spritzer, 4 pack
Free Kids Konserve Lunch Sack w/ Annie's Purchases (MIR)
Store Deals:
Earth Fare: Organic Ice Cream for $1.  Register or log into your "Welcome Home" account to print coupon.  Valid through Sunday, 7/31/2011.