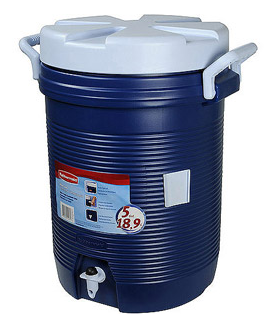 Walmart is offering this Rubbermaid 5-Gallon Water Cooler for just $17.86 plus Free standard shipping on eligible $45 orders or in-store pickup.  Be sure to check out all hte reviews..it's a big winner!
The Rubbermaid 5-gallon cooler features thick insulation, keeping your beverages cool for hours. Take this water cooler with you to your next sports game, picnic or camping trip for cold beverages on the go. This durable cooler features a crack-resistant polyethylene jacket, which also resists fading, denting and scratching. The cooler features a stain- and odor-resistant liner that is easy to clean. The screw top lid on the 5-gallon water cooler prevents beverages from spilling out during transport. It also features a drip-free spigot to that keeps the contents inside the cooler and not on your deck or floor. With comfortable carrying handles, it will be easy to transport this cooler to a variety of places. This Rubbermaid 5-gallon cooler has plenty of room for enough beverages to keep your group hydrated.
Rubbermaid 5-Gallon Water Cooler:
Durable, crack-resistant polyethylene jacket
Resists scratching, denting and fading
Recessed drip-resistant spigot
Extra-thick insulation
Stain and odor resistant easy-to-clean liner
Comfortable carry handles
Screw top lid for a tight seal
Available colors: Red or Blue
This is the lowest price we've seen for this model and always seems to sell out quickly.  Check out the details here.