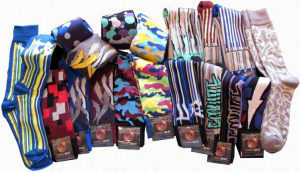 Schnoop has this 3 Pack Tunnel Beat Dress Socks – Contemporary Sock Art by Erni Vales for only $3 shipped when you use coupon code "erni2"!
Tunnel Beat is a graffiti artist inspired sock company. A once shunned art form forced to go underground to the tunnels and the train yards to find their canvas to finally, after decades, being recognized as a true art form and changing the way we look at art forever.
Keep comfy and contemporary with each order of 3 pairs of socks that truly stand out in the sock drawer. A cotton blend adds comfort, while the Graffiti inspired Prints theme features bold colors and graphic appeal. From its graffiti-based background to its future as a fashion icon, these socks are sure to wake up your footwear.
NOTE: You can only use the coupon code 1 time per customer, but you are free to order more than one 3-packs at the regular $5 price.