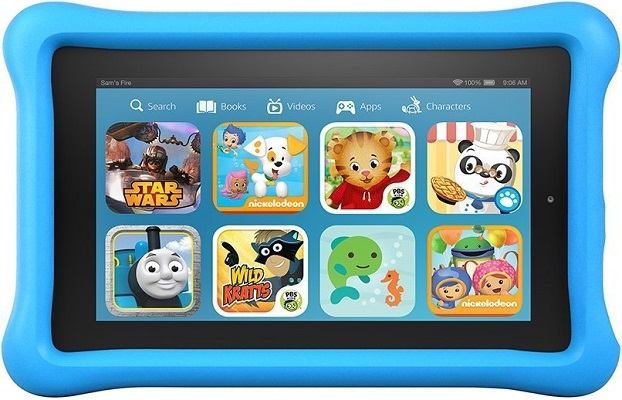 Have you seen the Fire Kids Edition Tablet yet? Or have you been waiting on a deal? RUN to Amazon to buy it for JUST $69.99! This is the lowest price we've seen this at!
Look at all the cool features the Fire Kids Edition Tablet has. My personal favorite is the worry-free guarantee!
If they break it, we'll replace it. No questions asked.
We all know accidents happen. The 2-year worry-free guarantee includes coverage for anything that happens to your Fire tablet. Just return the tablet and we'll replace it for free. It also covers your Fire tablet against electrical and mechanical breakdowns.
A case designed for little hands, protects against big drops
The Kid-Proof Case is designed to be the perfect solution for parents who need worry-free protection against drops, bumps, and the typical mayhem caused by kids at play. Designed to be durable and lightweight, the Kid-Proof Case fits perfectly in little hands without adding unnecessary weight to their Fire tablet.
Latest generation Fire Tablet
A full-featured 7″ Fire Tablet with a 1024 x 600 IPS display that's perfect for watching movies like Frozen, plus a fast quad-core processor that ensures quick app launch times and smooth games and video. The Fire Kids Edition tablet comes in black (with a blue, pink, or green Kid-Proof Case), 8 GB or 16 GB of internal storage, and up to 128 GB of expandable storage with microSD.
No more worrying about storage space
Keep your child's photos, movies, games, and apps with you using a microSD card slot that lets you expand your tablet's storage by up to 128 GB. Plus enjoy free unlimited cloud storage for all Amazon content and photos taken with your Fire device.
Capture life's moments
Fire Kids Edition has a 2 MP rear-facing HD camera for taking high-resolution photos and 720p video, and a front-facing camera that's perfect for video calls between kids and grandparents.
Amazon FreeTime camera and photo software lets kids explore their creative side with fun editing tools like adding stickers and drawings on their pictures. Parents can easily print them to hang, choose to share with friends and family, or auto-save to Cloud Drive with free unlimited cloud storage for photos taken with Fire tablets. As always in Amazon FreeTime, kids are blocked from posting photos to social media.
Hits kids love from PBS, Nickelodeon, Disney, and more
Amazon FreeTime Unlimited is the first-ever all-in-one subscription that brings together all the types of content that kids ages 3-10 love—books, movies, TV shows, educational apps, and games. You don't have to spend time guessing what your kids will enjoy. Fire Kids Edition includes a year of Amazon FreeTime Unlimited at no additional cost.
Best selection of digital content
On Amazon.com or the device, parents can hand-select additional paid and free titles that kids can access in Amazon FreeTime, like Disney Jr., Angry Birds, Minecraft, and more.
Coming Soon—Smart Filters
To ensure that your child sees only age-appropriate content, FreeTime Smart Filters tailor subscription content based on your child's age, so that older kids don't get the baby stuff and little kids don't see the scary stuff.
Designed with kids in mind
Fire Kids Edition starts in Amazon FreeTime, which is built from the ground up just for kids. The background color and fonts change to a kid-friendly design, kids only see the titles that they have access to see, the home screen carousel shows their recently viewed titles, and they can even navigate visually to content based on characters or topics—for example "Elmo," "Dinosaurs," or "Puppies."
Profiles designed for kids…
Parents can create up to four individual child profiles and choose content that they want to give each of their kids access to. It's like giving each kid his or her very own, personalized tablet. A child's profile does not have access to in-app purchases, email, or social media features.
…And for parents
Parents can take Fire Kids Edition out of Amazon FreeTime using a password. Fine tune settings, download apps, or share kids' drawings with family on Facebook. You can choose specific books, videos, and apps for your child to see in Amazon FreeTime from your library.
Screen time limits so they don't just play
Amazon FreeTime offers innovative parental controls that encourage learning before play and that help manage screen time. With FreeTime, you select all of the content your kids can see, and you can limit your kids' screen time by content type—for example, you may choose to limit videos and games, but make reading time unlimited. FreeTime blocks stores and in-app payments, so you don't have to worry about additional expenses.
Easily set educational goals
Parents can block access to games and cartoons until after educational goals are met, and set when FreeTime may be used. Learn First and Bed Time features extend Amazon FreeTime's existing Daily Time Limit controls.
Amazon FreeTime web browser
Once parents turn this feature on, kids can access more than 40,000 age-appropriate YouTube videos and websites. Websites and videos are selected using a combination of the expertise of Common Sense Media and Amazon FreeTime team to ensure they are appropriate for kids. Parents can also add most websites if they choose to.