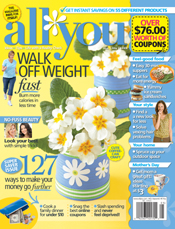 In case you haven't heard, the magazine subscription offer through Southern Living to get two years All You magazine for $19.99 is ending on July 31st.  After that it seems they will be offering the magazine for one year at $20 starting on August 1st, 09,  ouch! Anyway, my friends Bargain Briana and Mommy Snacks are having a blockbuster sale and offering the two year subscription for $16 only.  So, grab this great price while you can.  If you take advantage of this sale just remember this:
Only $16 will be charged to your card not the $19.99 stated on the Southern Living website.
Your magazine subscription will take 6-8 weeks to get to you from the time your card gets charged.
I love All You Magazine and the coupons in it are always worth the price you pay for it.  But at this lower price the magazine is worth it even more.  Happy Savings!