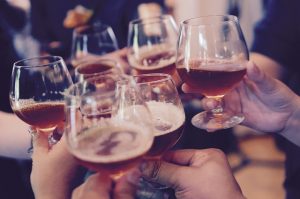 Do you feel like having a night on the town?  If it isn't in your budget, don't worry, we can make it happen!!
Here are some fun tips for saving on a night on the town.
Drink first – Have a fun little night in before you go out.  Drinks at home are FAR cheaper than drinks at the restaurant, bar, or club so it's smarter to do your drinking first.
Check Groupon – Groupon is the bomb . com for finding restaurant deals and other deals for brewery, vineyards, wineries, and more!  Seriously. I never go out without checking Groupon first.
Share appetizers – Why go for a full meal?  Our group likes to share appetizers and call it good.  Restaurants are so spendy, we prefer to do the majority of our eating at home and we just check out the nightlife when we are out.
Hit up a happy hour – HAPPY HOUR rocks.  Half price drinks and appetizers at countless restaurants.  $1 drinks at others.  For real, my friends, happy hour deals are among the best ways to save money on a night on the town.  Applebees is one of my fave restaurants to score sweet happy hour deals.
Designate a driver.  DO NOT DRINK AND DRIVE.  Drinking and driving is dangerous and at the very least can cost you thousands.  If no one is stepping up to be the DD, take an Uber.
What are your favorite tips for saving big on a night out on the town?  I would love to hear any and all tips that you have.  What did you do last time you wanted to go out, but still save money.
Let me be perfectly honest here, I am a mom of 3 (including a busy toddler), I don't go out on the town very often so I am likely missing some tips here.