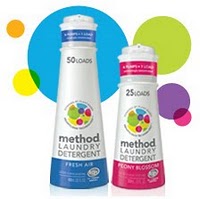 Who says you can't go green and save money at the same time?  Here are some printable coupons for some green or natural products available:
Save $2 off Method Laundry Detergent Thanks STL Mommy!
Save $1 off Seventh Generation Product
Save$1 off Tom's Of Maine's Toothpaste
Print the following Earth's Best coupons by clicking here:
$1/1 Earth's Best Wipes
$1/10 jars Earth's Best Baby Food
$1/2 Earth's Best Sesame Street Products
$5/1 Earth's Best Formula
$0.55/1 Earth's Best Infant Cereal Thanks Original Coupon Coach!
Happy Savings!