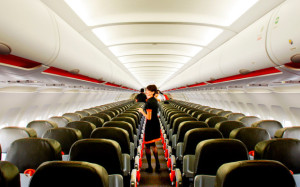 It is time to take that well-deserved summer vacation, and to make it as inexpensive as possible, here are some ways to save money on airline tickets:
#1. Check out travel websites.
There are travel websites that can offer you the best tickets at the lowest prices, and if you register with them, you can qualify for a discount on your first ticket purchase.  Also, if you do sign up with newsletter they may offer, then you will get discount codes sent to you directly, which can help you save a lot of money when it comes time to make your purchase.
#2. Check out the actual airline websites.
While travel websites can offer you great deals, sometimes if you go to the actual airlines themselves the prices may be a little lower than the ones offered on the travel websites. Travel websites are big competition to airlines, and there are always incentives to using the airlines directly.
#3. Booking tickets on certain days can make a difference.
There are certain days of the week when ticket prices are lower. The best day to buy anything involving airline tickets is on a Tuesday.  You can even check for yourself, if you go from the weekend to a Tuesday, you will see a big difference in the prices.
#4. Plan as early as possible.
It is never too early to start planning your vacation, and starting to check out things like airplane tickets is going to really save you some money. Airlines often give discounts if tickets are bought at least three weeks to one month in advance.
#5. Look into travel credit cards.
Many credit card companies want to encourage people to apply with them, and in order to do that, they offer travel credit cards. With these cards, people can earn points for every dollar they spend, and those points can add up to huge savings on things like hotels and airline tickets.
#6.  Check with a travel agent.
There is an old saying about connections, and travel agents have the most connections of anyone. By contacting one of these agents, you can get a special deal on tickets, and the agent may also help you get a deal on things like your hotel and attractions too.
#7.  Online auctions can offer ticket deals.
When searching for the best ticket prices, online auctions are great because people can put anything up for sale including tickets. Sometimes plans change, and people are not able to go on vacation after all, but tickets are not always refundable. Airline tickets are good for up to one year, which means that people can sell them and make a profit off of them.
#8.  Email alerts can be handy.
Email alerts with travel websites, vacation websites, or the airlines themselves can be good because it means that any time the price of airline tickets change, then you will be sent an alert. With these alerts, you can be told right away when the prices are down so you can really save a lot of money.