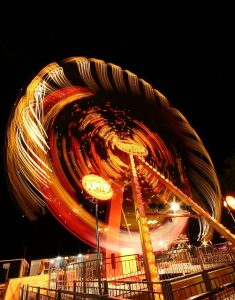 Are you wanting to try and fit an amusement park trip into this Summer still?  If you are afraid it will put your too far over your budget, don't worry.  It doesn't have to.  The truth is that there are actually some great ways available to you to save money on Amusement Parks that you can take advantage of now.
Here are 6 tips for you to save money at amusement parks:
Follow their social media channels.  Turns out, most amusement parks often offer discounts and coupons on their Facebook and Twitter pages.  If you like and follow their pages, you will be more likely to have access to these discounts.  My kids really want to go to an amusement park that is 1 state away from me so I began following it on Facebook and I see coupons all the time.

Buy multi-day passes.  Chances are you are going to be there for several days anyway, you may as well buy the multi-day pass.  They are cheaper than buying single day passes.  You will typically save 20% or more!

Go in the off season.  Off season rates are usually much cheaper, plus, you don't run into the crowds that you will find during the busy season.  It's a win win.

Pack your own water bottle and lunch.  I carry a large hydroflask water bottle with me so this is something that I do everyday anyway, but always bring your own waterbottle to the amusement park.  Unless you like paying $5 for a bottle of water.  Same goes with food.  Food and drinks are a huge expense inside of amusement parks so avoiding this cost is your best best.

Avoid souveniers at the park.  Here's a little tricky secret.  Never buy souveniers in the park.  You can buy the exact same things on Amazon or other retailers and save half the cost or more.  If you are going to Disney for example, make sure to order autograph books beforehand and take them with you instead of buying them.   You won't regret it.
Do you have any other great money saving tips for your amusement park trips?