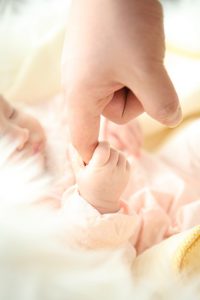 If you are expecting a baby,  you may be stressing out about how much money it is all going to cost you. Yes,  you do need to be prepared for some expenses,  but it doesn't have to be as expensive as you have probably heard.
Don't stress it, you can save money on baby stuff with these tips:
Have a baby shower. Baby showers are told of fun and you will get gifts that really help you save later on.  With my last baby I g, t so many diapers as gifts that I didn't need to buy any until my son was 9 months old.
Shop second hand. Babies grow out of clothes so quickly that it doesn't make sense to spend $20+ per outfit on them. Find a great buy/sell/trade group on Facebook or shop at thrift store such as once upon a child.  They have a great selection of clothes in great shape.
Get needs instead of wants. Let's face it,  much of the stuff that is advertised for babies is not actually necessary.  For example, I've had three children and I have never once used a wipe warmer or even a bottle warmer for that matter. I have also never used a diaper genie. The regular trash works just fine.
Use coupons. When shopping for diapers, wipes or baby foods and formulas, check for coupons. There are almost always coupons available for baby products.  Additionally, you can sign up for Gerber coupons as well as Similac, etc.
Use WIC. If you qualify, definitely use WIC. You will get assistance buying formula and other foods until the child is 5. If you have never bought formula before, it is very expensive, and WIC benefits have less severe income restrictions than other forms of assistance.
Do you have any tips on how to save on baby stuff?