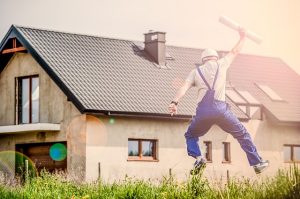 Do you own your home?  Is your budget not allowing for the home improvements that you are needing?  Or, are you simply wanting to update the look of your house and don't have the money to do so?
No worries, my friends!  You can do it! Here are some tips on how to save money for home improvements:
Start a side hustle.  Work on yards, babysit, start sewing (if you are good at that sort of thing), be a virtual assistant…so many options!  Get hustling, folks! You can make lots of money to put toward anything you need!

Get a second job or take on some overtime. If you don't have enough money coming in to do the projects you are wanting to do, you simply need to make sure that you start bringing more money in.

Brown bag it.  I mentioned this yesterday, but the average American family spends over $3000 each year on dining out. Skip going out and you can save your family almost $300 per month!  You can do a lot of home improvements with that much extra cash.

Sell your stuff. I know I am always preaching this, but go through your stuff and get to selling folks!  You can make so much money getting rid of your unused stuff.
You can make home improvements easier and more affordable with these additional tips:
Find used materials.  Many times people change their minds on projects so used materials are still in great shape.

Do the work yourself.  With most things, you will find that you can do the work yourself at a huge savings.  

Shop at the Habitat for Humanity store.  Many times when a contractor has too many materials for their job they will donate the rest to the Habitat for Humanity store.  You can get seriously steep discounts by shopping here.