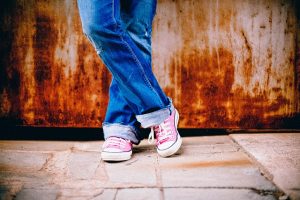 With the back to school rush upon us, and some of us already shipping our kids off to school, it's easy to get overwhelmed with the cost of clothing for our kids.  It is also really easy to overspend while shopping for our kids. This is exceptionally true if you are shopping for teenagers.
While I don't prescribe to the "keeping up with the Jones'" mentality in my family, I also want my daughter to be able to have the clothes she wants and for her to fit in with other kids.  Because, yes, other kids notice if your kid isn't wearing name brand stuff and kids are mean so they give other kids a hard time for being "poor." This is all ridiculous, of course, but I have found that I far prefer to give my children the opportunity to not stand out for the bullies.  That being said, no, I am not poor, but I am certainly not going to waste hard earned money on a label. So, what can I do? Well, I buy the label, but I buy them smart.
Here are a couple of tips on how to save money on name brand clothes:
Buy used.  I am not afraid to buy used clothes.  As a matter of fact, it is my preferred way to shop for clothing. For my daughter, her label of choice is American Eagle jeans.  She currently has 8 pair of these jeans in her closet and I will tell you this, I have only bought 1 pair of these jeans brand new.  EVERY SINGLE other pair of these jeans was purchased at either Goodwill (on half priced day) or Plato's Closet. I'm not kidding. She has a drawer full of these popular jeans and other than the one new pair she got, we have never spent more than $10 on a pair.

Shop Clearance.  Clearance is the way to go when shopping for almost everything!  Sometimes you can save as much as 75% on clothes and shoes shopping this way. Oftentimes these are barely out of season, so they are still in fashion.

Outlet Malls.  If you have an outlet mall near you, I highly recommend shopping there, especially during big sales weekends.  I buy almost all of my family's shoes at outlet malls and have scored some seriously low prices on clothes and shoes.
Do you like, or do you have a family member that loves name brand clothing?  How do you save money on them?