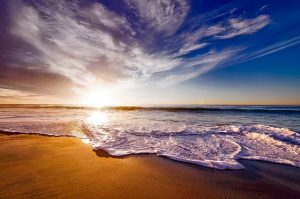 Are you hoping to plan a trip this year? Where are you going? If your destination of choice includes air travel, you may want to start doing some research into how you can save the most money on your trip. So, if you are like me and you want to figure out how to save as much money as possible on your airfare, follow these tips:
Sign up for Hopper. I have signed up for Hopper and it's super easy! Just put in your dates of travel and your destination and you will get notifications of the current prices and when the price drops.
Check Travelocity, Expedia, etc. I have booked five trips throughout the last year using expedia and I always find really good deals. Bonus: Use the bundle feature to book hotels and flights together to save even more, (plus it saves you time and the hassle of having to call multiple places.
Keep checking. I recently booked a rental car online and got what seemed to be a good deal so I reserved it. Turns out, these prices change often! I checked back a couple of days later and saved about $100! So check, check again, my friends!
Book 45-90 days out for flights and hotels. 45-90 days seems to be the sweet spot for finding the best deals on hotels and airfare both. I never book before 90 days out because it is a very obvious savings. This IS not true for rental cars though, I have found that it seems to cost much more to rent a car at a later date. I tend to wait to book my car within the week of my scheduled trip.
Use VRBO. I have found that if you are booking last minute, another great site to use is VRBO. They often have last minute rentals for discounted prices. I tend to book through them when we are booking a vacation house.
Try AirBnB. Okay, here's the deal. I have not ever found any stellar deals on an AirBnB house, but I have had countless people tell me that that is how they save money on vacations. For me the extra fees kind of kill their deals, but maybe I just don't know where to look.
Use Turo for your car. Turo is a great way to save money on rental cars. I like to say that Turo is like AirBnB for cars, but it is quite cheap compared to car rental rates. That being said, be sure to look out for the delivery fee. I have found that in some metropolitan areas, the delivery to the airport kills the good deal. If this is the case for you, check out how much it would cost to take an uber to the pickup site (if you are new to Uber, you will have a credit to help you pay the fee).
Be flexible. Being flexible on the days and times you leave will score you a much bigger discount. I recently booked a vacation to Arizona for my family and just kept clicking through the dates. We knew we had time available in February, so we let the deals dictate what day we left. I was able to score ROUND TRIP tickets to Arizona for $83!
How many trips have you been on in the last year? Do you have any tips on how to get the best deals? We would love to hear them!