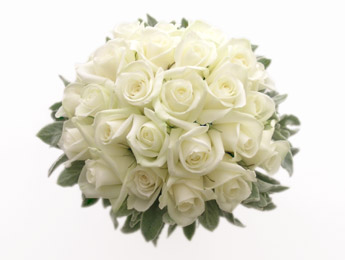 Planning your very own wedding is something that every girl looks forward to in her life. This is the day that all of us just can't wait until we get to live it out. The special day has finally come and now you get to work on planning out your own magical wedding. Unfortunately, you forgot one things: weddings are extremely expensive. One of the things you have to buy for you wedding is flowers and you will definitely want to save as much money on flowers as possible, because if you're not careful, you could end up spending thousands upon thousands of dollars just on flowers alone. Below, I'm going to give you some simple tips that will help you save money on wedding flowers when it's time to start planning for that very special day.
#1. Have Your Bridesmaids Carry Something Else
A lot of women will have their bridesmaids carry flowers and there's no doubt that this looks absolutely amazing, but you could find something for them to carry instead that still looks absolutely amazing and saves your money. I've seen people have their bridesmaids carry down tons of different things, rather than flowers. For instance, I've seen bridesmaids carrying lanterns, a single flower, candles, etfc… Whatever you choose, I'd suggest choosing something besides a bouquet of flowers to save money.
#2. Save on Center Pieces
If you do decide to have your bridesmaids carry bouquets of flowers, you shouldn't buy any flower centerpieces for the reception room. Instead, you could have empty glass vases already filled with water on each table and just have your bridesmaids put their flowers in the vases after the wedding ceremony. That way, you have centerpieces and you're not spending any extra money on flowers to fill them. You can get glass vases at the dollar store and they still look great.
#3. Don't Purchase Flowers from a Floral Shop
I would highly suggest that you purchase flowers anywhere besides a floral shop and I would also suggest that you purchase them in bulk, so you save as much money as possible. When you purchase your flowers from a floral shop, you will pay top dollar for the flowers themselves and you're also paying someone to put together the arrangements for you. It may be a little bit of extra work, but you should put the arrangements together on your own.
Chances are you will be able to find a friend or a family member that would love to help you out with making the arrangements. Making flower arrangements at weddings gives people pleasure when they can say: "Hey, I made those." Doing your own arrangements will save you a huge amount of cash. I would suggest going to bulk stores, like Sam's Club and buying flowers from there. If you want, you could also do some research online and find a website that sales flowers in bulk at discount prices. Remember, just order the flowers, not the arrangements or any special cuts.