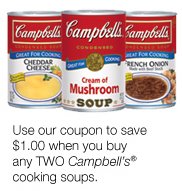 I know it's been almost two weeks since I have done a printable coupon compilation. I found a pretty good one last night and wanted to share it right away:
Save $1 off two Campbell's Cooking soups.  Why am I so excited about this coupon?  Because all you can usually find is $1 off four or more.
Save $0.50/1 Peter Pan peanut butter.  A good sale and a store that doubles coupons should help you get a good deal on PB.
Save up to $26.50 with these coupons (brands include Lysol,  Finish/Electrasol, Woolite, Bam, Spray n Wash, and more)
$5 off Glucerna Cereal (seems to be active again)
Save $1 off two 100 calorie packs Oreo Mini Cakesters.
Buy one Zone Bar when three free when you register for the ZonePerfect VIP club and then claim your coupon here.  Thanks Shellie!
Happy Savings!