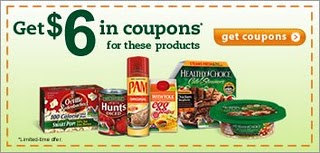 Get the following coupons by going here:
$1 off one PAM Cooking Spray
$1 off one Egg Beaters
$1 off one Healthy Choice Frozen Meal
$1 off three Hunt's canned tomato products
$1 off one Orville Redenbacher's Gourmet Popping Corn
$1 off one Healthy Choice Fresh Mixers
I was also very happy to find this coupon:
$1 off any Wholly Guacamole or Wholly Salsa
I recently found this at my grocery store (finally!). So now I can get it locally.
One last one:
$1 off any Kraft or Polly-O String Cheese
Happy Savings!