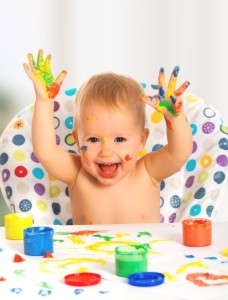 Whether you are expecting a new baby or you have already welcomed one to your family, you are probably aware of the cost your bundle of joy will add to your household expenses. Having children also costs more than just the initial expenses like a crib, and more than the baby items you'll need like bottles and diapers. Clothing can also cost a lot of money as your child outgrows clothing quickly. From birth to age 18, it is estimated that parents in the United States will spend $13,200 on clothing for their child, according to CNN. But don't let the cost of your new family member make you stressed or make you think that you have to sacrifice on all the cute new baby things you'll want like outfits, toys, and nursery furnishings.
Where to Shop
The market for children's clothing is expanding, and is expected to reach sales of $186 billion in 2014, which is a 15 percent increase over the last five years, according to GrabStats. Children's clothing accounts for almost 20 percent of the entire retail industry of the United States, according to the Herald Tribune. To shop for children's clothing, you may find it helpful to find a retailer that sells not only clothing, but also toys, furnishings, and other baby items. And when it comes to shopping for your baby, you want a reliable retailer that has been in business for a while and has physical stores as well as on online shop. One such store is Babies "R" Us, which is part of the Toys "R" Us corporation. There are 872 Toys "R" Us and Babies "R" Us stores in the United States and Puerto Rico, according to Toys "R" Us Inc. If one of these locations is near you, that can be a great bonus, as you can shop in the store, or you can browse in the store then buy items online if you have an online coupon. Another bonus to this is that you can purchase items online but then return them to the store if you find that they don't meet your expectations, or if you buy clothing that doesn't fit. This can save you the return shipping costs and it can save you days of added time and transit. Babies "R" Us sells clothing, diapers, toys, nursery furniture, and the other must-have items for a new baby. As a new parent, you are probably very interested in finding one-stop shops so that you can save time and shop as efficiently as possible. Babies "R" Us might be the perfect solution.
Saving by Shopping Online
If you have been paying full price for baby items, you are missing out on a lot of great discounts. The use of coupons, both in stores and online, is growing steadily. And coupons aren't just for people who are stressed about making ends meet. Households of all income brackets are interested in saving money. One study even found that mothers who were considered "affluent" were 55 percent more likely to use coupons, according to DailyFinance. So whether you are on a very limited budget for your new baby or you are interested in buying as many things as possible, but you don't want to pay full price, coupons are a must-have when baby shopping. Just as you can find printable coupons or those that show up on your mobile device that you can use when checking out in the store, you can find online coupons called promotion codes that give you specific discounts during the checkout process. If, for example, you want to take advantage of a great online sale on baby crib mattresses from Babies "R" Us, and you find an online coupon on a sites like MyCoupons for free shipping, you can use that promo code to get the sale price. Online retailers also often offer sales and discounts that aren't available in store, so even if you find something great while shopping in Babies "R" Us, use your smartphone before you leave the store to make sure you aren't paying more there than you would pay by ordering the same item from Babies "R" Us online.
Having a baby doesn't have to put a huge strain on your finances, and you don't always have to choose between the two adorable new outfits you found because you only want to pay for one. If you find a 20 percent off baby clothing promotion code, you can shop Babies "R" Us and use that code to buy both outfits at a lower price. Remember to check online promotion codes and printable coupons or mobile coupons for exclusions and expiration dates so that you always use your coupons on time and you know exactly how they will work on various items.