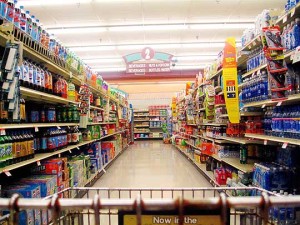 A lot of people think that us stay-at-home moms have a ton of time on our hands, because we don't go out and work a fulltime job, but they couldn't be more wrong. Our time is very restricted and we're always looking for more ways to save time and be more efficient. One of the things that take up a lot of our time is all the grocery shopping that we have to do. However, you can do things to save time and b a more efficient shopper. Below, I'm going to hook you up with some tips that will help you save time on grocery shopping.
#1. Make a List
This tip is one of those tips that I just can't stress enough and I know too many people that don't stick to making a list before they go out to get groceries. Having a list saves so much time that it's truly amazing. This way, you're not in the store and having to make decisions on the fly, trying to remember what you need, what you already have at home, ingredients for recipes, etc… A list is going to be your best friend and will help you save a ton of time, so it's important that you make one.
I have an app on my phone that enables me to create a grocery list before every trip to the super market. I know exactly what items I need and I know where to find them. I've seriously mapped out the grocery store and I plan my route to save the most time. I also print out my grocery list and attached it to my refrigerator with a magnet. As we run out of particular items in the house, I mark them off the list, so I know I need to get more the next time I go out to the store.
#2. Have a Backup
Now this one sounds like you could be wasting money, but I can guarantee that you will save money in the grand scheme of things. Buying a backups for some of your most used, but unnoticed items is a smart idea. For instance, I can't tell you how many times we've ran out of olive oil at the house and I've had to make a special trip to the grocery store just to pick up a bottle. For items like this, you should just simply have a backup. If not, make sure you have plenty before you go out to the grocery store.
#3. Avoid Peak Hours
I used to always go grocery shopping on a Friday, but I changed that, because I realized everyone else was going grocery shopping on Friday's, because they were off of work and they were getting supplies for the weekend. I switched my main shopping day to Tuesdays and I'm amazed at how much quicker I can make it through the store. There are less people to move around and less people to wait in line behind at the checkout. Plus, the store shelves are more abundant.