I have a confession to make: I have failed at my goal this month of not to buy any meat. Earlier this month I bought some roasting chicken and shrimp. But I just couldn't stop myself, it was a great sale and I had coupons for it.
Meat Buying: a common grocery budget buster. Before I started using coupons I only bought meat when it was on sale and this strategy worked fine with me. Since I have started using coupons I have added a couple of more options to my savings strategies.
One of the reasons I bought the meat I bought this month was because I found two meat coupons that expired at the end of this month. So I had to use them by then. Where do you find meat coupons you are probably thinking? One common source of meat coupons are winetags. They look like this: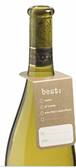 If you take a stroll by the wine section of your grocery stores (in states where these are allowed), you might come across these winetags. There are two kinds of winetags: one require the purchase of alcohol, usually the brand sponsoring the offer, and the best ones are the ones that don't require you to buy any alcohol. There are winetags for many things: meat, chocolate, eggs, flowers, ice cream even greeting cards. I have found that when you take a winetag to a cashier to be used they usually have to enter the coupon manually. This is particularly the case for winetags that don't require an alcohol purchase. This is because while usually a coupon is coded correlated to the product is good for, a winetag that doesn't require a wine purchase is coded to take money off your purchase. So, if you once come across one you will notice that it starts with a "9" instead of a "5" like any other manufacturer coupon. These coupons are hard to find, so I have bought some of them twice already. Just this weekend I bought some worth $20 in savings for $11. Yes, some of the savings are negated by having to buy these coupons but I am still saving money after all is said and done.
Another way to save money is by sending in for mail in rebates. These rebates are also usually found in winetags hanging on wine bottles or sometimes in tearpads. Back in November I sent in for a rebate for $10 on fresh turkey sponsored by Pepsi. Right now I am about to send out a rebate for $8 on shrimp sponsored by a wine company.
These are all strategies that take a bit of time and effort. But I think that if I have the time to read blogs I can devote five minutes to look for these types of coupons and submit forms every now and then. This is time I devote to make an impact in our budget bottom line.
For more Frugal Ideas head to Crystal's blog
Although reading this goal again, I stated I wouldn't buy something I already had in my freezer and what I bought I didn't have any of.
Picture borrowed from Hotcouponworld.