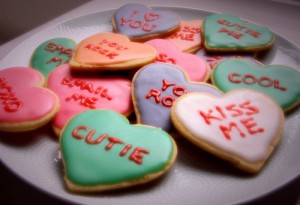 Check out these deals to make your Valentine feel loved without breaking the bank:
1) Play "your" song. Download it for free using the free in $2 Amazon credits
2) Buy a couple of greeting cards to tell him/her how much you love her. Check out this $2/2 American Greetings Coupons and Target deal to get them for less.
3) Go out for dinner. Buy a $25 restaurant gift card for only $2. Don't want to brave the crowds? Check your grocery store sales flyer for deals on lobster and fancy steaks. Have a great meal at home.
4) Get her some flowers. Whole Foods will be selling two dozen roses for $19.99 on Valentine's Day. I hear Trader Joe's will have a similar deal. If you don't have either store, check your grocery store sales flyer. They probably have a deal on roses.
5) Gifts:  check with Groupon or Living Social for any special activities or events you can do together.
What are your plans?  I am buying my husband a present with a $20 Barnes & Noble GC I got half off through Groupon.  Buying cards at Target and waiting for chocolate clearance at Walgreens to get him the Lindt's chocolate he loves 🙂