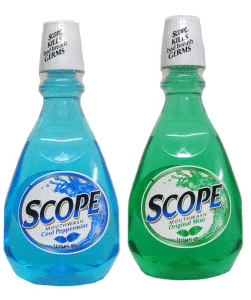 The 1 L bottles of Scope mouthwash are priced at $3.97 at Walmart right now, and there's a $1/1 Scope Classic Rinse 1L or larger coupon and a Scope Mail-in Rebate (Up to $4.49) available right now.
The mail-in rebate states "This offer cannot be combined with other offers, including coupons" so you may not get the rebate if you use a coupon. I'm pretty sure you also have to buy the Original Mint flavor (the green one) to qualify for the rebate. Just a heads up.
If you've already used the rebate or you just don't want to hassle with it, you can still score some cheap Scope…
Buy (1) Scope Classic rinse, 1L @$3.97
Make sure you check out all of the coupon deals we've found so far!