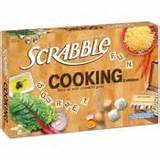 Any cook who likes the traditional scrabble board game will love Scrabble cooking addition. In addition to getting points for regular words, players can also rack up bonus points for creating words that are cooking related. The recipe cards that players can draw also throw in some twists to this game.
Scrabble cooking edition comes with a cooking themed board game, letter tiles, 25 recipe cards, a mini grocery bag to hold the tiles, and custom racks to hold both recipes and cards.
This game on Amazon is selling for $22.98, but you can snag it for just $14.99 on Rakuten.com right now.