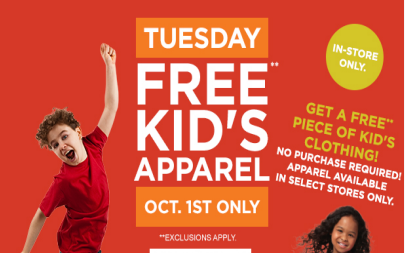 In case you missed it last Tuesday! You get another chance to get some Free Kid's Apparel Oct 1st at your local Sears Outlet Store. Share this post and pass the word!  If you are a Shop Your Way Rewards members (sign up here for free) you can get a FREE piece of Kid's clothing at your local Sears Outlet.
No purchase required! Apparel available in selected stores only. For store that carry apparel please visit: https://shout.lt/l1Tt
Limit 1 piece per customer. Applies to kid's clothing only. Excludes outerwear. No purchase necessary. Valid at Sears Outlet and Sears Apparel Warehouse only. Valid 10/1/13 only.