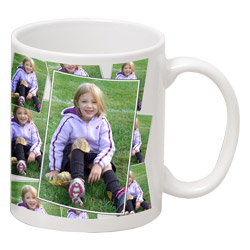 From now thru 12/13 you can get one 11oz Tiled Mug at Seehere for only $6.99 and that includes free overnight shipping.  This is how you can get this cheap photo gift:
Login or sign up for a Seehere account
Once you have done that click on "Photo Gifts" and select the 11oz Tiled photo mug for $13.99.
Upload your photo and design the photo mug as you wish.
At checkout, use the code nicolesnickels to get the photo mug for 50% off.  PLUS select Overnight shipping as shipping method to get it FREE!
A day later enjoy the beauty of your photo mug.  how sweet is that?
If you are a new customer to Seehere you also get free 50 prints so don't forget to get those freebies.  The code for 50% off (nicolesnickels) is also good on the 11oz photo mug that regularly $12.99.  So you could get that one for $6.49 if you would like that instead.
Thanks Nicole!