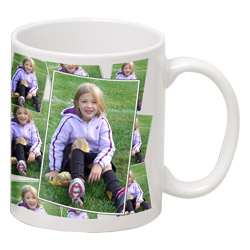 Seehere is offering an exclusive discount code to Common Sense with Money readers! Get 50% off 11oz coffee mug and 11oz tiled photo mugs. This makes the photo mug $6.49 and the tiled photo mug $6.99 and they SHIP FREE! This code is only available today 4/22 and 4/23. It will stop working at Midnight on 4/23 EST. Here's how to get this deal:
::: Login to or sign up for a seehere account (if you are new you get 50 prints free)
::: Choose whether you want to design a 11oz photo mug or an 11oz tiled photo mug
::: Design your photo mug when you are done head to check out
::: At checkout use the code cswm-1 (case sensitive) to pay only half of the cost of the mug
::: Get free shipping on your order
These mugs would make great Mother's, Father's, Grandparents Day presents. Design a mug that will make them brag about their kids to company! Thanks Seehere for the generous discount!