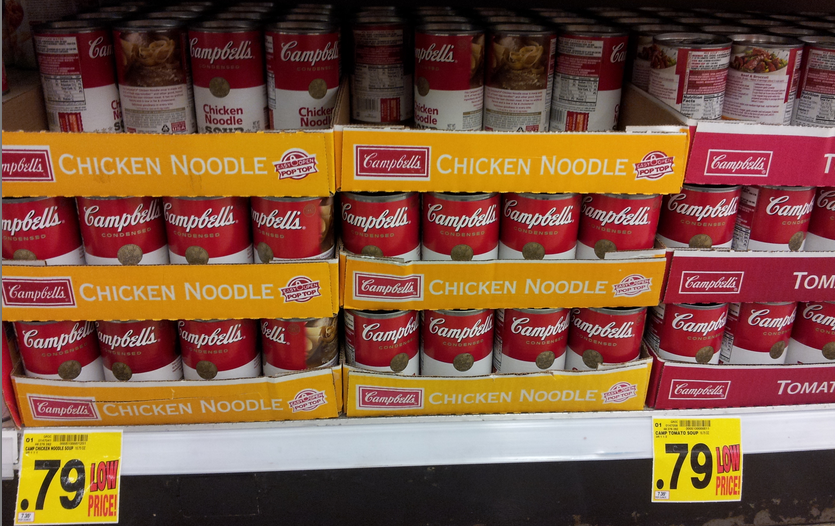 It's soup weather around here for sure!  For all you Kroger and Affiliate store shoppers there is a great deal on various Campbell's soups that I wanted to pass along.  Right now select Campbell's soups are generating a new Catalina coupon.  Combine that with manfacturer coupons and you can grab soup for as low as a quarter! 

Here is the Catalina info:
10/29 – 11/25 | Select Campbell's Condensed Soups (excluding 'great for cooking" variety)
Buy (5) = $1.50 OYNO
Buy (7) = $2.00 OYNO
Buy (9) = $2.50 OYNO
Kroger & Affiliates Scenario:
Buy (9) Campbell's Condensed Chicken Noodle or Tomato Soup – $0.79 each
Use (3) $0.40/3 Campbell's Condensed Soup printable (doubles to $0.80) or
Use $0.40/3 Campbell's Condensed Soups from SS 09/16 (exp 11/4)
$0.40/3 Campbell's Condensed Soups from SS 10/07  (exp 11/30)
$1/5 Campbell's Condensed Soups printable
Pay as low as $4.71, get back $2.50 OYNO Catalina coupon (thru 11/25)
That works out to be as low as $0.25 each after coupons and catalina! Pretty cheap way to stock up on the classics!
Thanks Kroger Krazy