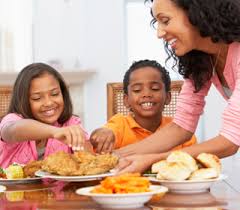 It's no secret that's I'm a pretty big fan of family meals. However, I also don't enjoy spending every spare moment of my evening running around in the kitchen!
Every evening, I strive toward getting a relatively healthy (and edible) meal not only on the table, but on the table in a reasonable amount of time. This isn't always a pretty sight, especially when we're all a little pressed for time. My daughter would even go as far as saying that I'm "aggressive" in my kitchen…whatever that means! Sheesh!
Most nights, though, I'd say I pretty well have things under control. All it takes to make family meals a little less hectic is a little more planning. With proper planning and prep, you can send more time with your family and less preparing family meals!
Get Started Early
Probably the biggest secret to less hectic family meals is preparation. Plan a weekly menu and start dinner prep as far ahead as possible. Chop vegetables, form meatballs, or even just pull out meat to thaw. When you prep ahead of time, you'll have more time with your family and less time in the kitchen.
Let Family Members Choose
Part of meal preparation is deciding what to have. And part of some of the hassle of family meals often involves one family member, particularly those of the younger variety, not liking what's being served. To help avoid this, be sure to include family members in the meal planning.
Love Your Slow Cooker
Some days I think my slow cooker is the key to my sanity. Well, at least when it comes to getting family meals on the table every night. With a slow cooker, you can just toss in the ingredients in the morning and dinner can be on the table with minimal fuss and hassle in the evening.
Cook Once, Eat Twice
Turning one meal into two can really cut down on the time you spend preparing family meals. You can actually make double batches of some meals, like casseroles, chili, and spaghetti, and freeze the second portion for another day. All you'll need to do is thaw it and heat it for dinner in minutes.
Have "Make Your own" Nights
If your kids are old enough, you can designate one night a week for everyone to make their own dinner. My parents called this "fend for yourself night", and I've carried on the tradition with my own family. Everyone gets their own dinner, which usually consists of leftovers or simple sandwiches, and we all sit down together to eat. Salad bars, taco bars, and nacho bars also make great family meals, and they require very little work. Just prepare the ingredients and let everyone have at it!
How do you stay sane and still put family meals on the table?