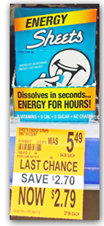 When you stop by Walgreens to pick up the great deals they have this week, check the clearance items.  Some have found Sheets Energy Strips with clearance pricing making it better than FREE after Register Rewards.  Here are the scenarios:
Sheets Energy Strips 10 ct – $2.79 (clearance pricing)
Pay $2.79, get back $4 RR
Better thand free after RR
If you can't find them on clearance you still can get them for free.  See here:
Sheets Energy Strips 10 ct $3.99, Get $4 RR when you buy one
FREE after RR
Clearance pricing may vary by store.  Check out the other Walgreens deals here.
Thanks KCL