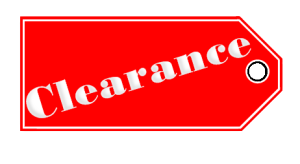 Clearance sale racks are no secret, and with the holidays coming up, we're all looking for ways to save a few extra bucks. One of the best ways to do this, I've found, is to hit the clearance sale racks – virtual or in-store – for many of my gifts. This is an especially helpful trick if you have young children that aren't yet obsessed about top brands and the current year's must-have toys.
Even if you have older children to shop for, you can still take advantage of the clearance sale racks. Items place on clearance are not necessarily inferior to full-priced items. Stores simply use the clearance sale method to move large quantities of inventory quickly. They may do this to get rid of last season's merchandise and make way for this season's merchandise.
Finding Clearance Sale Items
Nearly every store has clearance sale items, from intimate boutiques to dollar store chains. Oftentimes it just boils down knowing where to look. Some stores have separate clearance sections for each department, while others lump all of the clearance sale items together in one section.
Of course, stores aren't going to openly advertise their deeply discounted items very often. Chances are, you'll have to hunt for the clearance sale section. Some of the best clearance sales that I've found have been hidden along the back walls of the stores. Of course, I've also found clearance sale sections along the side walls of stores, at the front of stores, in the middle of stores, and even outside of the stores. If you can't find a clearance sale section after some searching, your best bet would be to simply ask.
Online Clearance Sale Items
You could, however, forego the searching altogether and hit up online clearance sales. That's right! Most stores also have clearance items listed on their websites. This not only saves you a bundle of money, but also a great deal of time. Depending on the store, you might also be able to eliminate shipping charges and opt for free in-store pickup.
Here's just a small list of different clearance sale sections on popular store websites:
And don't forget that some amazing deals can be found both in stores and online during Black Friday sales. Take a peek at leaked Black Friday ad scans to find some deep discounts before the big day gets here.