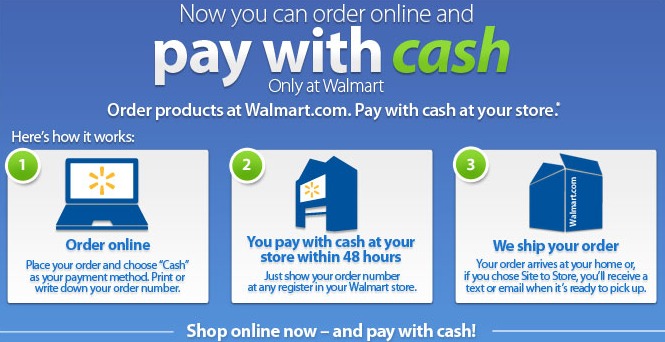 Did you know that "one in four U.S. households fall into the unbanked and underbanked categories where they don't have a bank account or credit card or have limited banking options, and often rely on cash as a form of payment for purchases?"  Yes, there are a lot of individuals out there who can't shop online because they do not have a bank account or a credit card.  If you are part of this group then let me tell you that you can now shop online at Walmart.com and pay with cash.
With Walmart's Pay with Cash, you can go to Walmart.com from any Internet-connected device to select an item and place an order.  During checkout, select the "cash" option and your shipping preference.

After you complete the online order process you will be given an order number on the order confirmation page and an email receipt with their order number. The item you ordered online is now reserved in the system.
You then have 48-hours to take the printed order form to any cash register of any Walmart store or Neighborhood Market and pay for your order.  There are instructions on this printed order form for the cashier to process payment at the register.  If you do not have a printer at home, you are also given the option of writing down the order number so the cashier can look up the order and process the payment.  All f this is explained during the online order process.
Once you have paid cash for your order, then shipping is processed via Site to Store or to your preferred address.  At the moment this form of payment is not available for "Same Day Pick Up" orders.  If you think about it, that makes sense as the shopper might as well visit the store and purchase the item there.
If you are individual that has a credit or debit card and are comfortable using them to pay for your orders online, this is not a service that is convenient for you.  This service adds the extra step having to visit the store in order to pay cash for your order.  However, if you are in the group of individuals who have been limited on your online shopping by the lack of credit or debit card then this option is for you.
Disclosure: This is a sponsored post. As a member of the Walmart Moms, Walmart has provided me with compensation for my time to test out this service and facilitate this review. As always, all thoughts and opinions are my own.