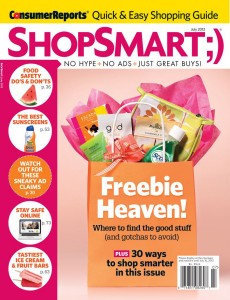 In case you weren't aware, ShopSmart magazine is a sister magazine of Consumer Reports magazine.  If you have never had a chance to flip through it then let me tell you that it is similar to Consumer Reports but easier to read.
We have been subscribers of Consumer Reports magazine for years! Here at our home my husband and I love a great bargain.  However, we also believe in getting the best value for the money we have.  That's why we regularly read Consumer Reports magazine to get independent ratings for the products we purchase.  I have mentioned this before, but I tease my husband that CR magazine is his "shopping Bible", we do not purchase anything without checking what CR has to say about the item.
Very much like Consumer Reports Magazine, ShopSmart shares best buys and gives you unbiased shopping advice that is easy to read.  Today only you can get a  one year subscription to ShopSmart Magazine through DiscountMags for $20.  Just use the exclusive coupon code COMMONSENSE at checkout to get this discounted pricing.  You get 10 issues per year for up to two years. 
ShopSmart is the lively new guide from the experts at Consumer Reports. Quick, easy-to-use, unbiased shopping advice to help readers find the best products and services for home, yard, health, fitness, food, electronics, family, autos and more. Like Consumer Reports, it is independent and carries no outside advertising.
Offer valid through 4/24/13.