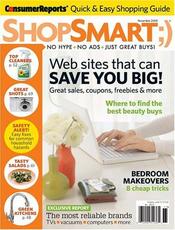 I spent the better part of this past  Wednesday at the Consumer Reports Offices in Yonkers, NY.  I was invited to attend the first ever ShopSmart Summit.  ShopSmart magazine is a sister magazine of Consumer Reports magazine.  If you have never had a chance to flip through it then let me tell you that it is similar to Consumer Reports but easier to read.
We have been subscribers of Consumer Reports magazine for years! Here at our home my husband and I love a great bargain.  However, we also believe in getting the best value for the money we have.  That's why we regularly read Consumer Reports magazine to get independent ratings for the products we purchase.  I have mentioned this before, but I tease my husband that CR magazine is his "shopping Bible", we do not purchase anything without checking what CR has to say about the item.
Very much like Consumer Reports Magazine, ShopSmart shares best buys and gives you unbiased shopping advice that is easy to read.  I was just looking and you can get a one year subscription to this magazine on Amazon for $34! Yikes!  But I have a better deal for you know.  From now through Sunday you can get a one year subscription to ShopSmart Magazine through DiscountMags for just $15.99.  Just use the exclusive coupon code COMMONSENSE at checkout.  This coupon is good to use through Sunday May 15 at 11 p.m CST.
At this summit I had the opportunity to attend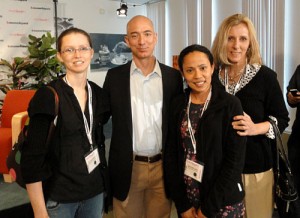 a couple of great panels.  But the highlight of the day was the keynote address by Jeff Bezos the CEO and Chairman of Amazon.com.  I was very excited to hear him talk, because I have been a customer of Amazon almost since it started and surely since way back when Amazon was losing money every year.  But here we are 15+ years later and it is now a leader retailer.  I was very excited to be able to squeeze in a picture with him and Wendy from Sweeties Sweeps and Erin from About.com Frugal Living Channel.  How lucky was it that we were all wearing black jackets?