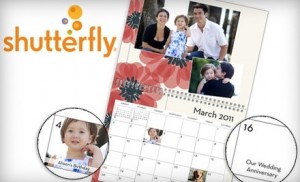 Today and tomorrow you can get 30% off Calendars on Shutterfly.  No code needed, the prices are showing the discount already.  Here are three ways to can get a free calendar:
1)  if you bought the Groupon: Buy two Calendars for $20 that was available back in December, you pay just shipping with this deal.
2) Check your email account for any emails from Shutterfly.  Yesterday I got an email with a code for a FREE Wall Calendar!
3)  if you added the free $20 credit I blogged about a couple of days ago.
Thanks Heather!