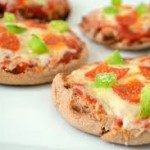 Woo hoo! One more night until Halloween! Halloween is my absolute favorite holiday. The trick-or-treating, the costumes, the overall craziness – I love it all!
What I don't love, though, is the stress that comes with trying to get a passable meal on the table while simultaneously trying to work around my work schedule, get the kids all scary looking, carving the inevitable last minute Jack o' lantern, and preparing for the trick-or-treaters.
Yeah – it's that hectic around here on Halloween night. But, I don't want the kids gobbling down just candy. That's not only bad for their health, it's also bad for my walls that they bounce off of, the cat that they torture, and the hair that I pull out.
So, here are some simple Halloween night dinner ideas that are quick and tasty!
Tacos
Probably my favorite Halloween night dinner ideas is the taco bar. Just cook up some taco meat and chop some vegetables, and you're good to go. Set out shells or tortillas and all of the taco fixings and let everyone help themselves buffet style.
Subs or Sandwiches
Pick up some cold cuts or lunch meat and set up a sub or sandwich bar. Provide cheese, lettuce, tomato, onion and any other sandwich fixings your family likes. Provide rolls or bread and everyone can make their own sandwiches. Don't forget condiments like mustard, mayo, and Italian dressing!
Pizza Muffins
Slather a little pizza or spaghetti sauce on English muffin halves and add pizza toppings like cheese, pepperoni, onions, peppers, and olives. Bake in the oven until cheese is melted and the toppings are slightly browned.
Not-so-sloppy Joes
Sloppy Joes are a quick and easy Halloween night dinner. They're also rather – well, sloppy, and the thought of that sauce dripping onto the costumes makes me cringe! Not-so-sloppy Joes might just be the answer. To make these, cook up your regular sloppy Joe filling and flatten some refrigerator biscuits, like Pillsbury Grands. Place a dollop  of sloppy Joe mix on half of each biscuit and sprinnkle with your favorite cheese. Fold half of the biscuit over the sloppy Joe mix and pinch the edges to seal in the filling. Bake in a 375° F oven for about 10 minutes until the biscuits are golden brown.
Quesadillas
I love quesadillas any night of the year, but they're especially nice to have for a Halloween night dinner since they're so quick and easy to make. Cover half of a flour tortilla with cheese and cooked chicken chunks, beef strips, or veggies. Fold the tortilla in half and heat on a skillet until the cheese is melted and the tortilla is browned. You can also sprinkle taco or fajita seasoning to the filling for a little extra spice.
Mini Meatloaves
Smaller meatloaves cook much faster than a family sized meatloaf, so their nice options for Halloween night dinner. Just mix up your favorite meatloaf recipe and shape mini meatloaves. Bake in a casserole dish and cover with your favorite meatloaf topping. Add a simple salad and some instant mashed potatoes and you have a complete meal.
Loaded Baked Potatoes
Another great option for Halloween night dinner is a batch of baked potatoes. They're easy to make and very filling, so the kids (and you) will be less likely to gorge on candy. Bake up a batch of potatoes and serve them with all sorts of toppings, like steamed broccoli, bacon crumbles, cheese, and sour cream.
Anything in a Slow Cooker
If you plan ahead, which I never seem to do on Halloween, you can put your slow cooker to work for Halloween night dinner. Just add dinner to your slow cooker in the morning and dinner will be ready before you head out trick-or treating. Just about anything will do, but some of my favorites include chili, meatballs, and Italian sausages.
What will you be making for Halloween night dinner?
More Frugal Living Resources: