Doing laundry is a time consuming task that all households need to face. Oftentimes, it's very easy to let laundry pile up and become overwhelmed by the sheer amount that needs to be washed, dried, and put away. Your laundry room setup may not make doing laundry any easier either.
A few simple changes to your laundry room and routine, though, can make doing laundry easier and less overwhelming. Take a look at these changes for your laundry room and routine to make this task less unbearable and more manageable.
Decorate Your Laundry Room
Your laundry room doesn't have to be a dark, dismal, and disfunctional space. Like any other room in your home, you should take some time to set it up so it's functional and even decorate it. Add shelves, cupboards, and baskets for storage, as well as a curtain rod to hang up laundry and an ironing board if you iron frequently. You should also consider painting it a bright or fun color; use a bold color that you love but don't have the courage to use anywhere else. Decorate your walls with family photos or art. You can also add a colorful area rug, or even paint your floors with deck and floor paint, like this View Along the Way Blogger did. Love the Before & After: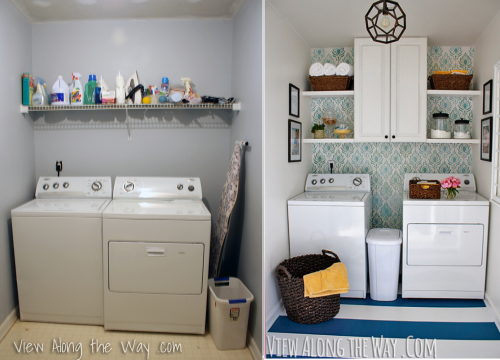 Create a Schedule
Creating a laundry schedule is a great way to simplify your laundry routine and prevent those discouraging laundry pile ups. Do a different type of laundry each day, or a different person's laundry each day. For instance, you can do sheets on Monday, towels on Tuesday, whites on Wednesday, jeans on Thursday, and t-shirts on Friday. After you get into the groove of the schedule, stepping into the laundry room and doing that day's laundry will eventually become automatic.
Enlist Some Help
If you aren't the only person living in your house, you shouldn't be the only person doing laundry. If you're getting overwhelmed with laundry in a big household, it might be time to ask for help. Even younger children are capable of bringing their own laundry to the laundry room and putting it away. If you're older children don't do any of their own laundry, perhaps it's time that they were introduced to the laundry room and shown how to use those magic washing contraptions.
Don't Skimp on Laundry Baskets
Each bedroom should have a laundry basket to catch any dirty clothes. Additionally, there should also be a laundry basket or hamper in the bathroom and a small laundry basket for dish rags and towels in the kitchen. And, of course, keep a few laundry baskets in your laundry room to catch clean clothes and help with sorting. You might also want to keep a donation bag or box in your laundry basket for items you no longer want or no longer fit.
Invest In Mesh Laundry Bags
Get one or two for each person in your house, and use them to wash socks and underwear. Keep a few extras in the laundry room for when the old ones get ripped or when you need extras. These can usually be found at the dollar stores, so it should only be a small monetary investment but worth their weight in gold. When socks and underwear need washed, just throw each person's bag in the washer and dryer. When they're done, all of the small items that usually get lost or strewn about are still all in one place. No more searching for socks or figuring out whose is whose. Simple!
Do It In One Day
If you start a load of laundry, make sure you finish it that same day. This takes some discipline, but it's important to push yourself to get it done. This will help eliminate piles of unfolded clean clothes from piling up in the laundry room as well as scrambles in the morning to find clean clothes and that icky mildew smell when you leave clothes in the washer for too long. So, if you wash a load of laundry, make sure it's dried and put away before you go to bed and start your day with a clean laundry slate.