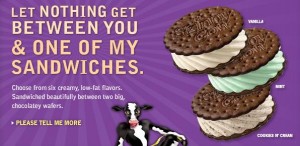 If you love Skinny cow treats you can get  two Skinny Cow treats printable coupons right now.  Just play the Dirty Dancing Movie and Skinny Cow trivia game and after you have answered the 10 questions you will have access to the coupons.  I guessed most of the questions so I do not think you have to get a certain number right.  Here are the coupons you can get:
$1/1 Skinny Cow candy Snack 4ct package or larger
$1/1 Skinny cow low fat ice cream cones
Thanks Mojo Savings!