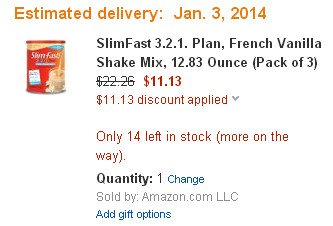 Amazon has a Buy One, Get One 50% Off promotion for SlimFast products right now. However, I added two items to my cart and it discounted my entire order by 50%, not just one item. So, I went back and edited my cart so it just had one item, and it still discounted my order by 50%.
If you're looking to lose a few of those holiday pounds, this could be a great way to do it!
A few things to keep in mind, though…
Some of these are add-on items, so they'll only ship with orders of $25 or more.
Discount applies only to products shipped and sold by Amazon.com.
You can save even more if you use Subscribe & Save.
You won't see the discount until you go to checkout.
This might just be a pricing mistake, so you might want to hurry and grab some stuff before they catch it…