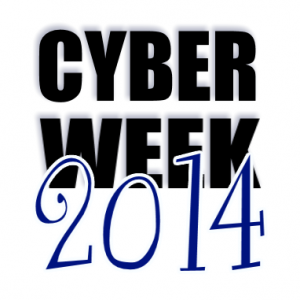 Cyber Week 2014 has officially started, with the traditional Cyber Monday kicking us off with some nice deals with online retailers like Amazon and Walmart.com.
Wait – Cyber WEEK? Did you read that right? Yes you did! No longer is Cyber Monday a one-day event. In recent years, it has become a weeklong event for most retailers, with new deals and discounts every day. That's good news for shoppers who aren't able to stay glued to the computer for a whole day in hopes of snatching a couple coveted items.
If you're new to the whole Cyber Week thing, you're either in for a treat or headed for defeat! Cyber Week can be pretty intense, exciting, and frustrating all at once. With a little help from the pros, though, you can be shopping like a fiend and getting the best deals all Cyber Week long!
Here are a few of our favorite Cyber Week 2014 shopping tips for the masses…
Make a List
And check it twice! You know the drill. Just as if you were heading to the grocery store, make a list f some of the items you hope to buy Cyber Week 2014. That way you'll know exactly what you want and when the time comes, you'll be ready to pounce.
Compare Prices
The flurry of falling prices during Cyber Week 2014 can confuse and fluster even veteran deal hunters. Before you do any serious shopping, do a little price checking. Find out how much your items – or comparable substitutes – would cost normally. That way you'll be able to differentiate between a good deal and the illusion of a good deal when Cyber Week 2014 deal prices are only markdowns of inflated prices.
Shop Early
Many online retailers favor the early birds during Cyber Week. The best deals are usually posted in the morning as early as midnight. Depending on your sleep schedule, you'll want to check for Cyber Week deals either super early in the morning when you first wake up or late at night just before going to bed. Some retailers also put out new deals in the middle of the day around noon as well.
Shop Often
Keep checking your favorite online retailers for new deals. I expect most online retailers to periodically add new deals throughout Cyber Week 2014. So, the sale items you see now may be completely different than the deals you saw yesterday or even an hour ago. Amazon is known for this in particular with their Cyber Week 2014 Lightning Deals.
Shop Around
One of the best tips I can give anyone shopping during Cyber Week 2014 is to shop around. Online retailers will often offer the same products at very similar prices. Many retailers are trying to beat or match the competition in hopes of gaining sales. You may find the same deal at Target.com and Walmart.com, for instance, but Target offer free shipping and 5% off with the REDcard, so it might actually be a better  deal. Amazon has also been know to match the prices at other online retailers, so make sure you check there as well, especially if you're an Amazon Prime member.
Don't Get Burned by Shipping Costs
That $10 gadget slashed 50% off might seem like a great deal…until you factor in the $8 shipping fee that is. During Cyber Week 2014, shop at retailers that offer free store pickup or free shipping. Be careful of shopping at retailers that offer free shipping when you spend a certain amount of money, though. You may be tempted to spend more than you planned just to bag free shipping.
Don't Fret if You Miss a Deal
Cyber Week 2014 will not be the end of deals before the holidays, so don't get too frustrated if you aren't able to snag the deal you want. There will be more sales before Christmas. In some cases, you may even be able to get slightly better deals, especially during the last couple weeks before Christmas.
What are you shopping for during Cyber Week 2014?
We'll be posting all of the great Cyber Monday deals we find in the Cyber Monday 2014 category.