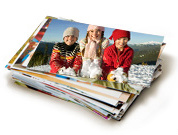 Through today (2/22) you can get free shipping on Snapfish when you use the code FSPREZDAY at checkout.  New account sign ups get a credit towards 50 free prints added to their account at sign up.  Order just one additional photo print (for 51 prints total), then use the code FSPREZDAY to get your 51 prints shipped for only 9 cents!
Some of you that have an old account may still have this credit towards 50 free prints in your account.  Just login to your account and check on the upper  right corner click on "Account" and check for it.
Thanks, Kansas City Mamas!