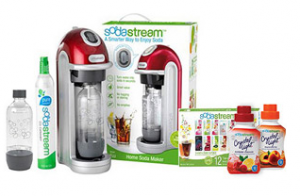 If you're looking for a cheaper alternative to soda, you'll want to check out this Walmart deal! Right now, the SodaStream Fizz Bundle with Crystal Light flavors is marked from $65 to $59. There's also a $20 SodaStream rebate available, making your final cost just $39!
Here's what you'll receive with your order:
60 liter carbonator
One 1L carbonating bottle
1 Crystal Light Peach Tea 500ml
1 Crystal Light Raspberry Lemonade 500ml
Sodamix Variety 12 pack
Not only are SodaStream systems less expensive than buying soda and other carbonated drinks, but they're also more eco-friendly. Instead of using and tossing aluminum cans and plastic bottles, you can reuse the same bottle when you make your soda. If you already have one and love it, this bundle would also make a great gift!
Resources You Might Like: