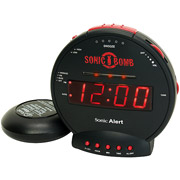 Do you have a heavy sleeper in your house? Does it take nothing short of a natural disaster to rouse your kids for school? You might want to give the Sonic Boom alarm clock a try! Today only, it's just $26 from Walmart, and you can pick it up for free at your local store.
This alarm clock has a 113 decibel alarm, which is about as loud as a car horn, power saw, or live concert. As added incentive to get up, it also has a Super Shaker bed-vibrating unit that can be placed under the mattress or pillow.
I'm thinking this might be enough to get my daughter up in the morning…especially if I hide it on here every night! 

Resources You Might Like: