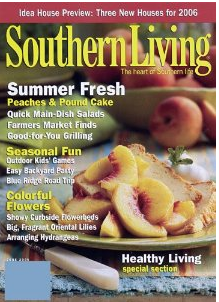 Here is a rare deal we've don't see much.  Amazon is offering a one year subscription to Southern Living Magazine for $10 plus free shipping.  You receive 13 issues per year making it just $0.77 per issue.
Southern Living is a visual magazine but still believes in storytelling. Its photographers have continually worked to raise the visual bar because readers want to see the all the beauty and seasonal color of the South. They also want to access useful information quickly and easily, so Southern Living focuses on clean design and readability. But also makes room in the book for great writing and storytelling.
This is the auto-renewal subscription.  Auto renewal guarantees that you will never miss an issue, always renew at the lowest price available on Amazon.com, and avoid multiple renewal notices. Cancel anytime with Amazon's Magazine Subscription Manager.